Auction Information
How to Bid

How to Bid



In order to bid, you must register with our on-line bidding system.

The auction is currently only open to residents in the USA and to some in Canada with permission.
How to Register/Log-in:

It's easy! If you have registered in the past for an auction, you can use the same login as previously. Forgot your username? That's OK! Just use your primary email address, that will work too.

To register, click the link on the top right of the webpage that says "Register". Or, click this link : Register

After you submit all the necessary information (username, password, full name, and address) you can begin bidding! Remember your username and password, because you can come back to the site at any time and use the link at the top right that says "Log-in" to use those same credentials and log back in to the website to update your bids.

We will not use any of your information for any other reason than to update your bids, email you your invoice, and mail you your winnings! We may also email you information regarding the auction. Your data will never be shared with any third party.

We require name, email address, and mailing address in order to send you your winnings.

Forgot your password? That's OK, click the "Forgot Password" link on the top right of the webpage. Or, click this link: Forgot Password



How to Bid:


You must be logged in to bid on items. See above "How to Register/Log-in".

You can navigate through the auction items by clicking the links on the left hand toolbar. The items are sorted by these categories. To see larger pictures of the items, click either "View and Bid!" or the item's picture and you will be directed to the bidding screen. Click on an image to make it larger.

Once you are ready to bid you can use the form at the bottom of the item's page to place your bid. Click on the field under the word "Bid" and enter in your bid. Only enter whole numbers (no cents, commas, decimal places, or symbols). Your bid must be greater than the current bid. Click "Post Bid" and you will be able to see your new bid on the site immediately.

Please note that by clicking "Post Bid" you are committing to making a Donation Offer, which is a Promise to Pay for that item should you win it for the amount you entered.
Viewing Your Items:

A brand new feature to our auction, you can now view the items you have bid on. After logging in (see above "How to Register/Log-in") click the grey box on the top right of the website, this should display your username. Then click "My Bids".

"My Items" lists the items which you are currently winning (where your bid is the highest bid). It also lists any "Buy It Now" items you have purchased.

"Past Items Bid On" lists the items which you had previously bid on, but are not currently winning. You can click item to view and rebid.
Winning Items:

Within 48 hours of the auction end time, invoices will be populated and emailed to the winners with shipping and handling costs added. If the winner does not reply within 2 weeks, items will default back to PapHaven. All packages are shipped USPS unless requested differently. All items will be shipped to the winner within three-four weeks. We will contact you when your items have been shipped.

As done in prior years, we are standardizing shipping and handling costs. Those cost for each invoice will be based on the total amount of the invoice. Below is a chart itemizing those costs:
Total: Shipping & Handling:
under $20 $10
$21 - $30 $12
$31 - $40 $14
$41 - $50 $16
$51 - $70 $18
over $70 $21

Shipping to Canada or country outside of the USA may include an additional surcharge.

There are items clearly marked where an additional "surcharge" is added for shipping. These costs are needed for high value items which require insurance, large and heavy items which require added packaging and materials, and extremely fragile items which may have to be shipped via other carriers and require special shipping.

Your shipping and handling costs go towards: actual shipping of the items and costs to purchase shipping materials (boxes, padding, tape, etc). We understand that moving to this new calculation method may be confusing for some customers, feel free to email us if you have any questions.

If you have special shipping requests, email us at paphavenrescue@yahoo.com and we can apply different shipping rates for items that need to be expedited.



Auction END


The auction

ENDS

midnight EDT

on . At that time bidding will cease. Please do not wait until the last minute as it takes time between the time you click to bid and when it reaches the softwear to show who the winner is. You will be notified if it is decided the auction will remain open after that point in time due to extreme circumstances.
Having trouble? Questions?

Let us know! We are here to help. Email us at paphavenrescue@yahoo.com to ask any questions.



How to pay


Payment may be made via personal check; bank draft; money order or paypal.










Working together we are making a difference - one Papillon at a time.



Copyright © 2020 Papillon Haven Rescue All Rights Reserved.



..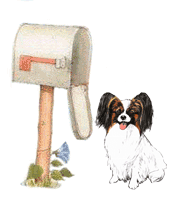 Make payable to Papillon Haven Rescue.
Send to:
PapHaven
PO Box 20306
Hot Springs AR 71903